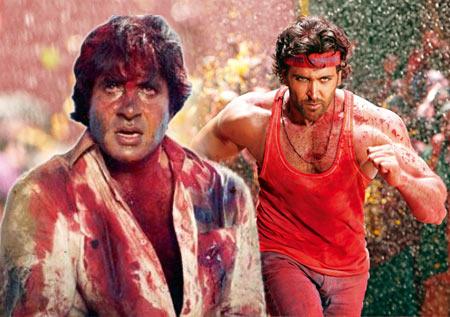 There has always been, and always will be only ONE Vijay Dinanath Chauhan, and He only has ten fingers. Now that that's settled, let's move on.
Agneepath, the second, is definitely a great Bollywood film: our hero is a hunk, our heroin petite and unimportantly scattered on the sidelines to be used for dance sequences only, the terrifying villain with tattoos and dirty teeth (we never did have a classy villain after The Lion), the stab wound in the hero that doesn't bleed, the bullets that don't kill him, and of course, the win of good over evil.
But unfortunately I missed a lot of this wonderful stuff dreams are made of, because I spent the movie shielding the eyes of my 8-year old from watching other 8-year olds being auctioned in open markets, public lynchings, bullets, blood, swords and more blood and death. The Censor Board of India now refuses to pass films that show smoking o, but they gave this blood and gore a U-rating?
Yet, whatever I did watch, I was pretty traumatised by, and I'm older than 8! And pardon me for being nit-picky, but after dealing with the psychological illnesses of trauma victims for 2 years, all  I could think of was- Vijay's vengeful feelings must come from his Post Traumatic Stress Disorder from watching his father being hung to death, and worse still, his mother deliver his sister under a lamp post of a street in Kamatipura! Kancha's evilness must come from his Borderline Personality Disorder from all the abandonment he's faced in life. And what must  be the trauma of a sister who is first almost auctioned to dirty Arabs in a city square, and worse, much worse still, finds out that the hot hunk who saves her is actually her brother, and all this in a society that condemns incest…tsk tsk! Sorry, this is not one of those stories where the hero saves you and then you fall in love with him, sweetie.
But worst of all is Priyanka Chopra's (Kaali)'s trauma. What's worse than being shot dead on your wedding day? Well, of course, to be wed to Hrithik Roshan and be shot dead before your Suhaag Raat! I would have to go to therapy for sexual frustration for years after that…oh wait…but I would be shot dead…oh well then.
Ok, enough tom-foolery. Down to serious business. This blog has a responsibility of delivering high quality movie critiques which decide the future of a movie at the Box Office, after all.
So, why the older Agneepath became "a cult fim", as Karan Johar himself writes in the disclaimer before the movie, is because it showed a Vijay Chauhan, so blinded by his desire to avenge his father's death, that he himself sets on the evil path of those he wants to kill. At some point this hits him- that now there is no difference between him and those he loathes. And suddenly, the title explains itself- revenge is a path that will burn you on the way, and you will not come out untouched by the evil that you have set out to destroy.
And this one central revelation of the protagonist missing in the new Agneepath, makes the movie fall flat.
But have no doubt, the superficiality in plot and character development is more than made up for in glitz and glamour- larger than life Ganesha idols, larger than life biceps and chests of the villains and the hero, over-done dramatic pauses that made me feel like I was watching 300 for a while, and much smaller than life waistline of the heroine. What must be credited though is the cinematography- when Master Dinanath is dragged to the Banyan tree on top of the mound in the village amidst burning torches and navy blue human silhouettes, is a beautiful Sarte-esque  painting.
All said and done, you should definitely go and watch Agneepath for nothing but "Chikni Chameli". No, watching youtube reruns of the number is not enough. The uncut version is only in the movie, and you don't want to miss out a single move that siren makes! What a long way she has come from the stiff Barbie days of lisping Hindi, to impersonate a sexy, yet not vulgar, bar dancer. Someone please mujhe ek pahua chadhao!